Welcome to our home...let us introduce you to our family!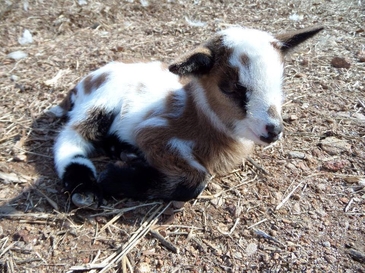 It all started with chickens which was, to say the least, a ROCKY start. We learned a great deal about 3 year olds and their ability to take out a baby rooster, our hawk population and their palate for baby roosters, and poor fencing's ability to diminish the life expectancy of roosters. Needless to say, roosters didn't do so well those first few months, but we finally established our coop and our first eggs arrived!!
From chickens, we got increasingly more courageous and moved into rabbits (and four legs). The rabbits - New Zealand and Californian mix - came home very little and got VERY BIG very quick! Some of them got names...some of them (destined for futures other than as pets) did not. Our 6 year old began to get very important lessons about from where our food originates. We no longer have rabbits. Feel free to ask me why and I'll be happy to tell you.
In June of 2012, we brought home our first 6 Nigerian Dwarf goats and Four Legs Good Farms was "born". Our farm name is an homage to that lovely little Orwell novel "Animal Farm" and gets us all giggling when we recall the book's original "Seven Commandments". The goats KEEP us smiling as we delight in their playful antics. Each day our animals teach us something we didn't know the day before.
Whatever goes upon four legs, or has wings, is a friend.
It is through this process of becoming a farm, we have established our mission of keeping true to the care and upkeep of our animals. Our Nigerian Dwarfs are purebred, registered ADGA, healthy, spirited creatures. We breed them with care and deliberation so to as assure their lineage and to uphold the Nigerian Dwarf and ADGA registry standards. We will avail our animals to breed with others who are like minded through sound and bio-secure business practices.
We will continue to post pictures of our animals so as to offer doe and sire references, as well as to announce the arrival of our new babies we will have available to good homes! We welcome curious questions from those interested in learning! Please be sure to check out our breeding pages and our animals for sale pages for more information.
If you have any questions, or interest in partnering with us for future breeding, purchase of goats, purchase of our handmade soaps, acquisition of rabbits for meat or eggs from our chickens - please feel free to contact us at (828) 320-5238 or email us at:
info@flgfarms.com
. Our farm is located in Taylorsville, North Carolina - just North of Hickory.
---